St James E-News
30th September 2021
Welcome to the St James Primary School's E-News, a weekly roundup of the latest goings on at the school.
Latest Headteachers Blog
Dear Parents,
Sadly, we are due to say goodbye to Mrs Smithson and Mrs Hammond next month as they move on to new challenges. They have both worked hard in the time they have worked here supporting many children in our school as part of the St James Primary staff team and we want to thank them for all their efforts and
wish them well as they move on.
As usual, we like to make the most of the countryside around us and Kingfishers enjoyed the first common visit of the year this week, taking with them their meerkats and Marlowe.
Many of you will be aware of the large rise in numbers of Covid cases in our local secondary schools. Please be vigilant and ensure that you are aware of the Covid symptoms that require a PCR test and please do not send your children into school if they are at all unwell.
Best wishes for a lovely weekend,
Valerie Elliott
School Notices
School Clubs - The final clubs list is now available on the parent portal, please check to see if your child has been given a place in one or more of the clubs of their choice. Please go onto Scopay to pay your child's school-run club fees by next Monday, 4th October.
Parking - regrettably, the school received a complaint this week from a local resident after their drive was obstructed by parked cars at pick-up time. The obstruction meant that they could not get their car out of their drive when they needed to. Please ensure that you park safely and with consideration for our neighbours when you drop off and collect your children from school.
Wear It Pink Day Thursday 21st October - Breast Cancer Now's 'Wear it Pink' day is one of the biggest fundraising events in the UK. This year the event is taking place on 22 October, during Breast Cancer Awareness Month when thousands of amazing people will 'wear it pink' in their communities, schools or workplaces, to help make life-changing research and care happen, as this is an INSET day for us this year, we are planning our own St. James Primary 'Wear it Pink' day on Thursday 21st October. Over the past year, people have been diagnosed with the disease at a time when everything from treatment to screenings have been disrupted. This has only made us more determined to make sure we're there to provide support for now and hope for the future. Join us on Friday 21st October, by wearing something pink or red for all those affected by breast cancer. Thank you so much! Please follow this link to Kate Arif-Hayman's Just Giving page.
INSET and School Closure Days - Our next INSET day is on Friday 22nd October. School will also be closed on Friday 26th November, this is in lieu of the Platinum Jubilee Bank Holiday which falls during the half term holiday in June 2022.
Covid-19 Information
Please remember; if your child or a member of your family have Covid-19 symptoms please do not send your child to school - Please immediately arrange a test for the symptomatic member of your family and inform the school office as soon as possible. Your child and all members of your household will need to self-isolate at least until you receive the test result.

NEW

COVID-19 INFORMATION FROM PHE -

In response to the transmission of variants of concern, Public Health England (PHE) South East, is advising all close contacts of COVID-19 cases to get a COVID-19 PCR test (ideally 5 days after exposure or day five of isolation) whether or not they have symptoms of coronavirus COVID-19

Weekend Results: It is very important that you continue to notify us of Covid-19 test results still over the weekend by using the below email address which is monitored out of school hours.

results@st-james-elstead.surrey.sch.uk

A negative result will require a confirmation from the school before your child and siblings can return to school. Please do not send your child back to school until we have been in touch with you.
Letters this week
The following classes have had letters uploaded to the Parent Portal this week. Note: You will need to login to view this area.
PTA News
Please click on the link below to find out about activities planned for next week and the rest of the summer term.
News Blogs
Blog of the Week: Click on the picture below to see the wonderful flags created by Eagles for last week's Surrey Pride event in Godalming.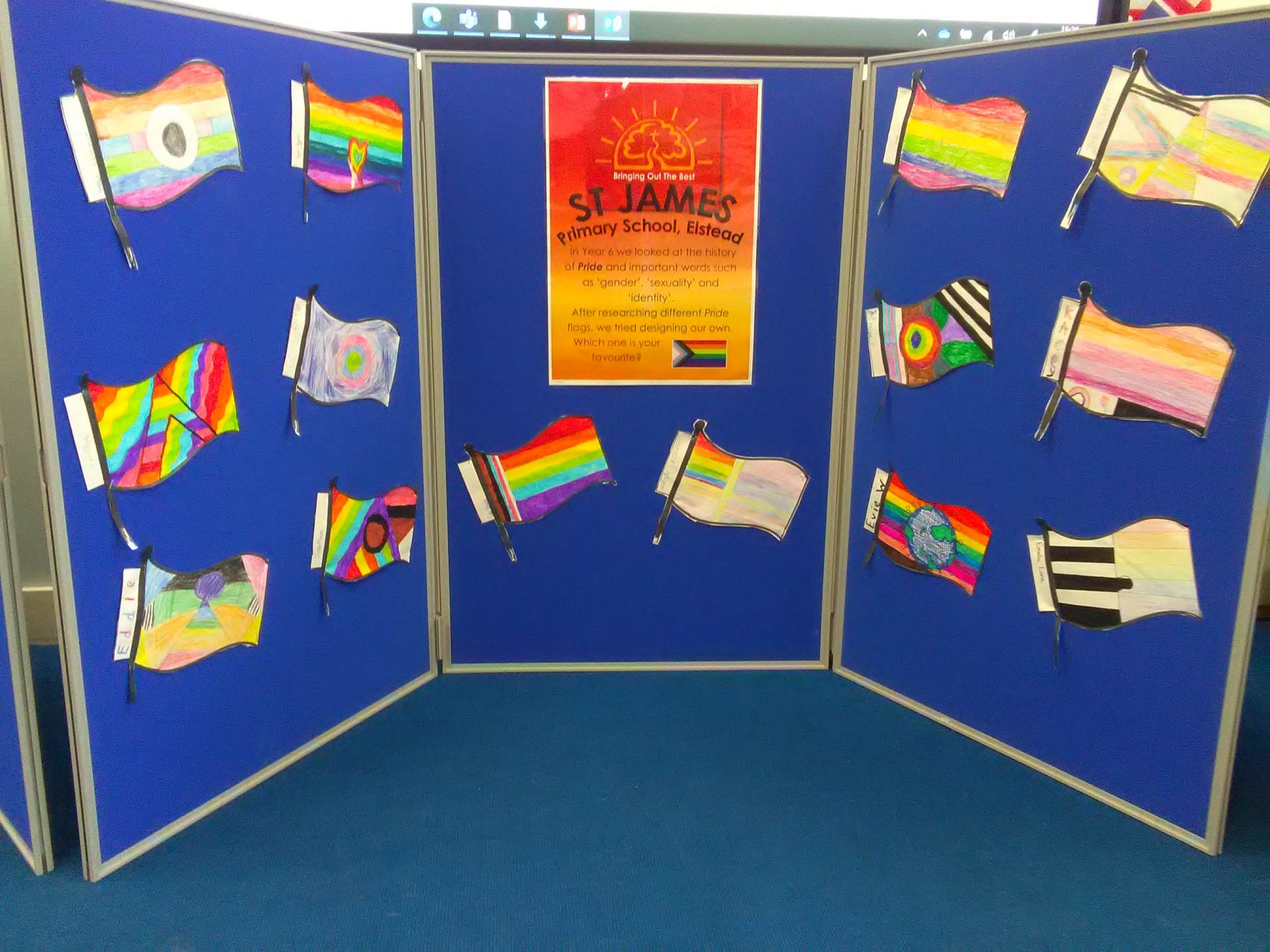 Click below to view all the latest News Blogs:
Dates for your diary
View the school calendar for the latest information
Advertising Hub
Please see latest from our advertising hub:
School Meals
View this weeks school meals menu: