St James E-News
17th December 2020
Welcome to the St James Primary School's E-News, a weekly roundup of the latest goings on at the school.
Latest Headteachers Blog
Dear Parents,
We've (almost) reached the end of the term and I'm sure you'll agree it's been an interesting one, but throughout it all we've tried to keep the spirit of St James alive and kicking! I hope you've enjoyed our Nativity video and Christmas message from the staff and this week the children have enjoyed a Christmas lunch, Christmas Panto paid for by the PTA and class Christmas parties. Tomorrow Reverend Hannah is joining us for our virtual wishing service, our traditional end to the Autumn term where we sing carols and make wishes for the future.
Be sure to watch the staff Christmas message to our St James family into todays News Blog.
Throughout the pandemic we have always been impressed with the attitude and resilience of the children, so I thought I would finish by sharing a poem written this week by one of our pupils.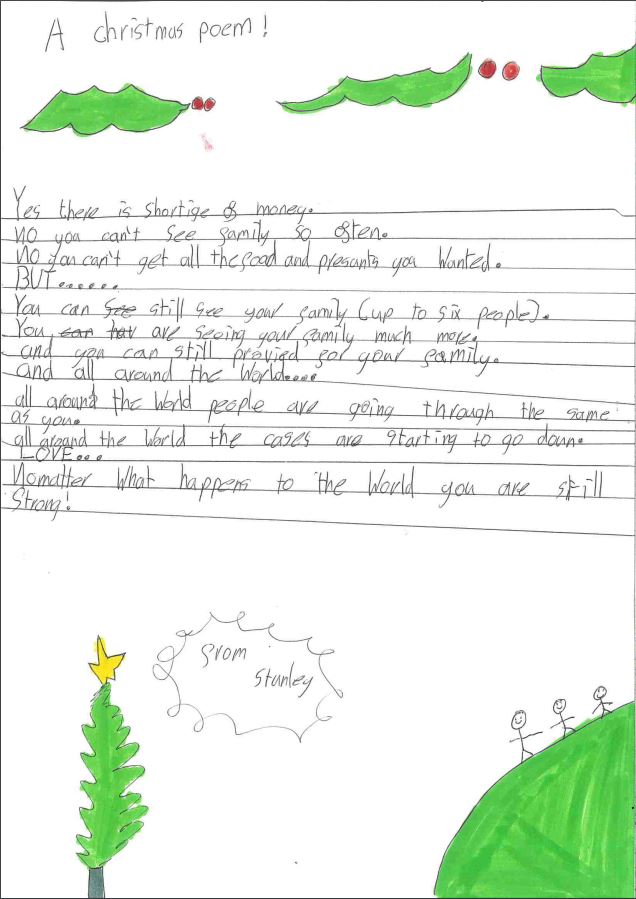 Have a wonderful Christmas,
Valerie Elliott
School Notices
Pupil testing Covid Positive up until the end of Wednesday 23rd December - please advise us by emailing head@st-james-elstead.surrey.sch.uk to ensure the class bubble is informed. This email address will be monitored daily.
We are holding the Christmas House Quiz tomorrow - children are welcome to wear their house t-shirts if they wish (optional)
Please help spread the word regarding our Open event on Saturday 9th January following the cancellation of our November date; this is for prospective parents of children due to start school in September 2021. For full details click here
Letters this week
The following classes have had letters uploaded to the Parent Portal this week. Note: You will need to login to view this area.
News Blogs
Blog of the Week: Click on the picture below to see Eagles Christmas Lights
Click below to view all the latest News Blogs:
Dates for your diary
View the school calendar for the latest information
Advertising Hub
Please see latest from our advertising hub:
School Meals
View this weeks school meals menu: