St James E-News
30th September 2022
Welcome to the St James Primary School's E-News, a weekly roundup of the latest news and events at the school.
Latest Headteachers Blog
Dear Parents,
The PTA AGM takes place on Monday at 8pm via Zoom. The link details are on the PTA News page. We hope many of you will join the meeting to meet the committee members and learn about plans for the coming year.

We are really looking forward to our Open Morning next Thursday. Although this is open to parents who are considering school places for their children in the next academic year, we also welcome current parents and local residents who would like to take the opportunity to see more of our school and nursery at work. We will also have the children's artwork on display from a recent project looking at Black History Music. We hope to see you there.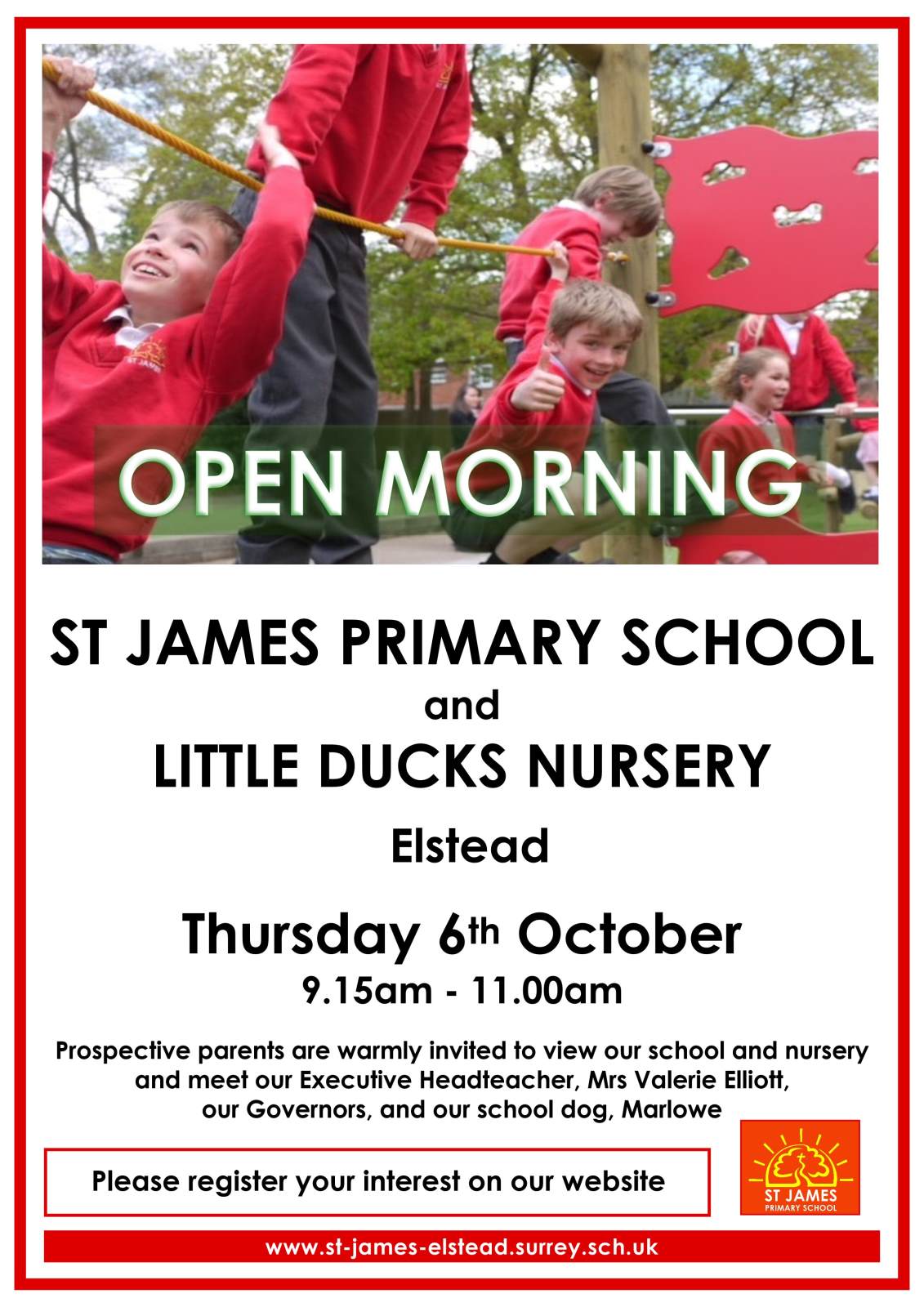 Best wishes for a lovely weekend,
Valerie Elliott
School Notices
Free Parenting Courses - Surrey Family Learning are excited to be expanding their offer of free courses for parents, grandparents and carers of children in Surrey. Courses can help participants develop more confidence when supporting children at home with different issues, such as: maths homework, EAL, healthy eating, wellbeing.

There is also a new programme of courses focusing on wellbeing including: supporting teenagers with anxiety, building resilience and developing confidence. All courses are developed by our experienced team of tutors. Please click on the link below for further information.

Family Learning for parents and carers - Surrey County Council

Autumn School Clubs - the list of school clubs is now available on the Parent Portal. A paper copy is displayed in the library for the children to see.
Inter-house Art Competition - We are very happy to share information about our first Inter-house Competition of the year. Please see the details on the Parent Portal
Meet The Author - Mr Gardner will be taking part in a Meet The Author evening at St Mary's Church Shackleford this Saturday, 1st October at 2pm. Please see the poster below for more information.
Drop in sessions with our Home School Link Worker, Helen Owen - The role of the Home School Link Worker (HSLW) is to support families with a range of issues at home or at school. 1:1 sessions are available on Wednesdays. To book an appointment, email Helen on hslw@st-james-elstead.surrey.sch.uk or ring the school office to request a call back.
Letters This Week
The following classes have had letters uploaded to the Parent Portal this week. Note: You will need to login to view this area.
Puffins
Kingfishers
Woodpeckers
Whole school
PTA News
Please click on the link below to find out about activities planned for this term.
News Blogs
Blog of the Week: Click on the picture below to see what our Sports Crew thought about our recent Aquathon.
Click below to view all the latest News Blogs:
Dates For Your Diary
View the school calendar for the latest information
School Meals
View this week's school menu
Safeguarding Information
School Policy on Granting Leave of Absence
Advertising Hub
Please see latest from our advertising hub: