PTA News
09.09.2021
Dear Parents and Carers of St James Primary
Welcome back to the Autumn Term. I hope you all had a relaxing summer and are enjoying the daily search for shoes and school uniform which the kids had the day before, but is now nowhere to be found.
There will shortly be a calendar of events published to keep you all entertained and give the PTA opportunity to extract cash from you, all for the children at St James Primary.
PTA Committee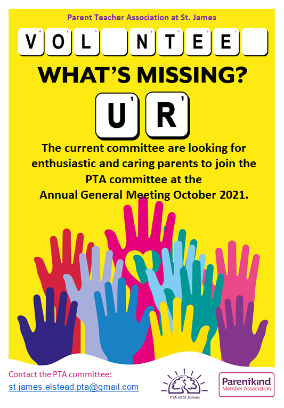 The current committee, as it stands, will change October 2021. The current treasurer, secretary, and Chair (me) will all be standing down we've all been in positions 4 years to 5 years. All positions need to be filled for the PTA to continue, but you will not be left alone, we will all still be members of the PTA to help if you need us to. We do have a volunteer for the Secretary position but are on the lookout for a Chair and Treasurer. Please email the PTA if you have any interest in these roles or just want a bit more information. Or speak to Janine Harling, Verena Steward or Kate Clipsham Miles. st.james.elstead.pta@gmail.com
POSTPONED Till 2022: 100km ULTRA Challenge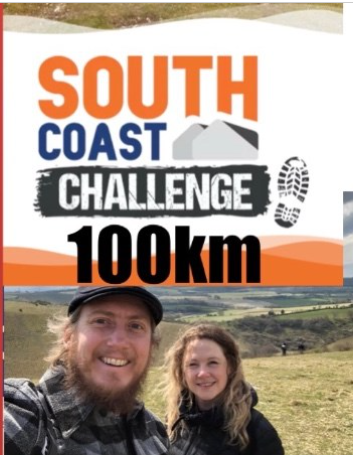 Lee and Tracey are walking the 100km ULTRA Challenge from Eastbourne to Arundel Castle, to raise funds to help St James Primary School. This was due to start on September 4th, 2021, but has been postponed till next year, when hopefully the donation pot will be full to overflowing. Please donate and help them reach their target:
https://www.justgiving.com/crowdfunding/tracey-and-lee-100km
Easy Fundraising
Please support the PTA of St James Primary School,Elstead on #easyfundraising. You can raise funds at no extra cost when you shop online with over 5,100 retailers; John Lewis & Partners, Argos, notonthehighstreet and many more are ready to give us FREE donations. It is simple and only takes 2 minutes to sign up. Right now, every donation makes a difference! Sign up here: www.easyfundraising.org.uk/causes/pta-of-st-james-c-of-e-primary-school--elstead
Janine Harling
Please join the PTA at St James Facebook page which can be found by searching for 'PTA at St James'
A reminder of future PTA events:
Volunteer to be on the PTA committee, you know you want to!