St James E-News
29th April 2021
Welcome to the St James Primary School's E-News, a weekly roundup of the latest goings on at the school.
Latest Headteachers Blog
Dear Parents,
Yesterday Michelle, our school cook, left St James Primary to work at another site. Michelle has been with us for a number of years and we'd like to thank her for her commitment to the school. We are organising a collection for Michelle and if you would like to make a donation, please speak to a member of the admin team.
Please can we remind you that the children should still be keeping the number of items they bring into school to an absolute minimum. For this reason, backpacks are not permitted. We hope that we can start to return to some sort of normality after the half-term, once the government reviews it's guidance to schools.
If a member of your household displays symptoms which may be Covid, please follow the instructions below, ensuring that you inform the school office as soon as possible and do not send your children to school until you have received confirmation from us.
Finally, we are busy making preparations to open our swimming pool and will be contacting you before half-term with further details. Let's hope the weather warms up!
Best wishes for a lovely weekend,
Valerie Elliott
School Notices
KS2 Homework - the children have homework on Classroom Secrets Kids. The children should have their login details but should contact their class teacher via the class email if they don't.
Activity Bags - we have been given a surplus of activity bags by Surrey County Council, originally intended for children who receive free school meals. They contain craft, activity and cooking ideas plus a skipping rope, chunky chalks and balloons. They will be available to collect at the school office on a first come, first served basis.
Common Visits - All the common visits are now entered in the calendar
Covid-19 Information
Please remember; if your child or a member of your family have Covid-19 symptoms please do not send your child to school - Please immediately arrange a test for the symptomatic member of your family and inform the school office as soon as possible. Your child and all members of your household will need to self-isolate at least until you receive the test result.
Weekend Results: It is very important that you continue to notify us of Covid-19 test results still over the weekend by using the below email address which is monitored out of school hours.

results@st-james-elstead.surrey.sch.uk

A negative result will require a confirmation from the school before your child and siblings can return to school. Please do not send your child back to school until we have been in touch with you
Letters this week
The following classes have had letters uploaded to the Parent Portal this week. Note: You will need to login to view this area.
News Blogs
Blog of the Week: Click on the picture below to see how Kingfishers are enjoying their ukulele lessons.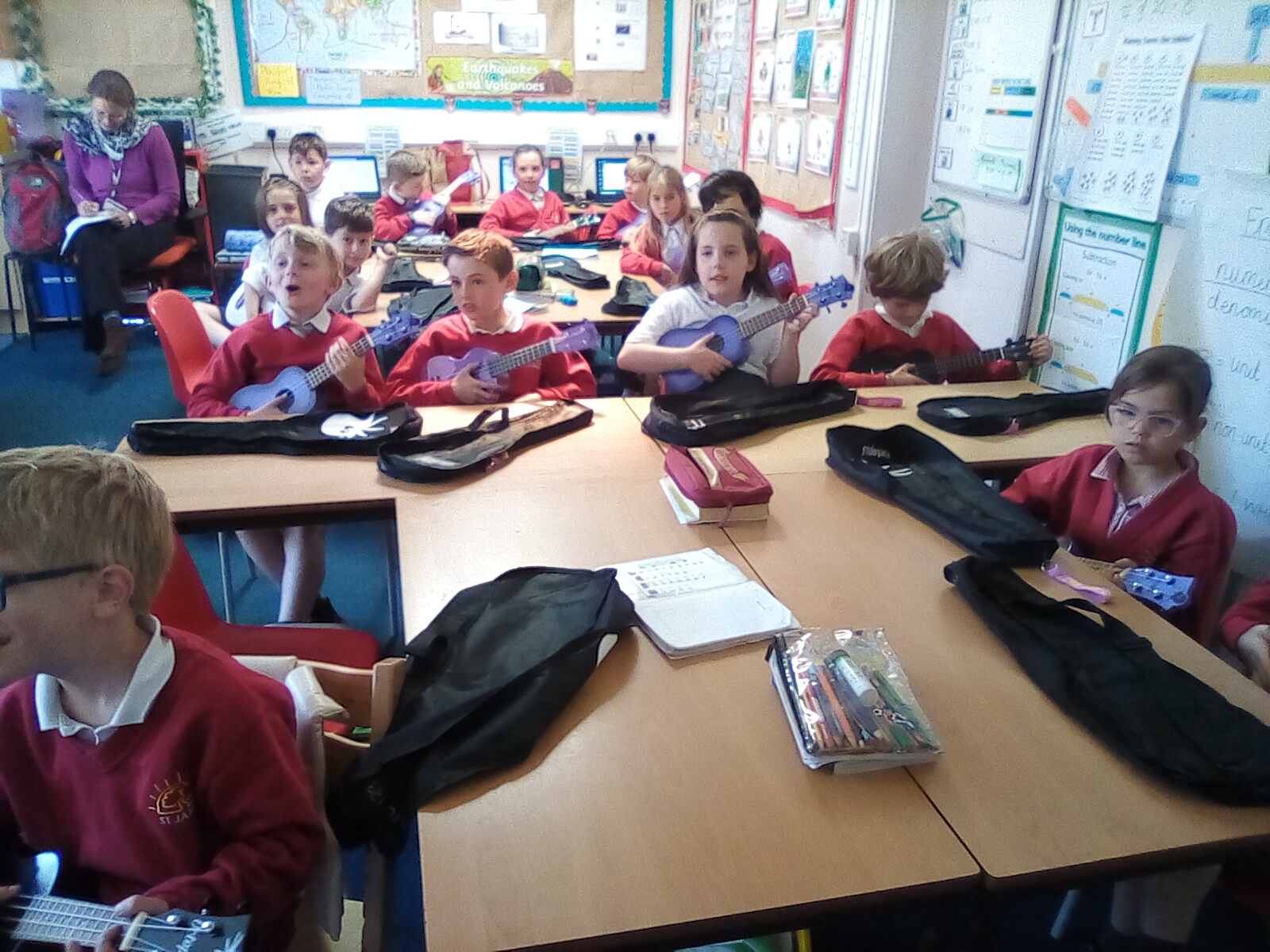 Click below to view all the latest News Blogs:
Dates for your diary
View the school calendar for the latest information
Advertising Hub
Please see latest from our advertising hub:
School Meals
View this weeks school meals menu: