St James E-News
1st April 2021
Welcome to the St James Primary School's E-News, a weekly roundup of the latest goings on at the school.
Latest Headteachers Blog
Dear Parents,
I think almost every email or message I have received this week from a whole range of different people has started with talking about how challenging this term has been, and when I think back to the 4th January and our return to full schooling for one day, that feels like years ago. What followed in the next few days after that was a superhuman effort on the part of parents and staff to quickly get to grips with remote or onsite learning and make it work. And we did! We have been looking at the assessments that the children have completed since their return and compared these to where the children were to February last year, before the pandemic started, and this shows the gaps in learning are mostly small. So, as we move nationally towards a return to some normality, we hope we will be able to do the same in school and bring out the best in our school family.
So, that just leaves me to say that I hope you all have a relaxing Easter break and we look forward to seeing you all again on 19th April.
With thanks and best wishes,
Valerie Elliott
Covid-19 Information
Please remember; if your child or a member of your family have Covid-19 symptoms please do not send your child to school - Please immediately arrange a test for the symptomatic member of your family and inform the school office as soon as possible. Your child and all members of your household will need to self-isolate at least until you receive the test result. This must be a PCR test which can be booked online. A lateral flow test is only for non-symptomatic, routine testing and therefore cannot be used in this circumstance.
Holiday Results: It is very important that you continue to notify us of Covid-19 test results still over the Easter weekend by using the below email address which is monitored out of school hours. This will enable us to contact bubbles to ask them to isolate.

results@st-james-elstead.surrey.sch.uk

A negative result will require a confirmation from the school before your child and siblings can return to school. Please do not send your child back to school until we have been in touch with you
School Notices.
Parent Consultations - please remember to book your parent consultation appointments online by noon on Monday 19th April. The letter containing all the information regarding bookings will remain on the parent portal until the deadline has passed. If you have any problems with logging on, please contact the school office.
INSET Day - Our final INSET day will be Monday 21st June this year. This will replace the day which was postponed in February.
Club4 Web Page - Club4 has been set up to support families where the children are entitled to Free School Meals. Club4 webpages are available to view at www.surreycc.gov.uk/club4holidayoffer In addition to links to help keep their children busy over the holiday, the webpages allow FSM parents to book onto an exclusive presentation on child wellbeing, covering topics from screen time to why having breakfast or a bottle of water is important for child development.
PTA Second Hand Uniform - Thinking about summer uniform?

The second-hand uniform shop is now online! Please consider purchasing from the second-hand uniform shop before buying new. We have lots of good quality items up for grabs including summer dresses and shorts.

All proceeds go to the St James PTA, and you'll be making a positive contribution to the environment by reusing clothes which might otherwise end up in landfill. Win win! Once you've created an account the uniform is under 'Shop'. Please contact Gemma Hitchen (gemhitchen@yahoo.co.uk) or Danielle Sleightholme (daniellesleightholme@hotmail.co.uk) for any specific requests.

Thank you to everyone who has donated uniform for the shop. All good quality uniform donations are gratefully received and can be placed in the orange box under the pram park at the front of the school.
Letters this week
The following classes have had letters uploaded to the Parent Portal this week. Note: You will need to login to view this area.
Whole school
Penguins
Kestrels
Eagles
News Blogs
Blog of the Week: Click on the picture below to see the beautiful chalk work that has been done around school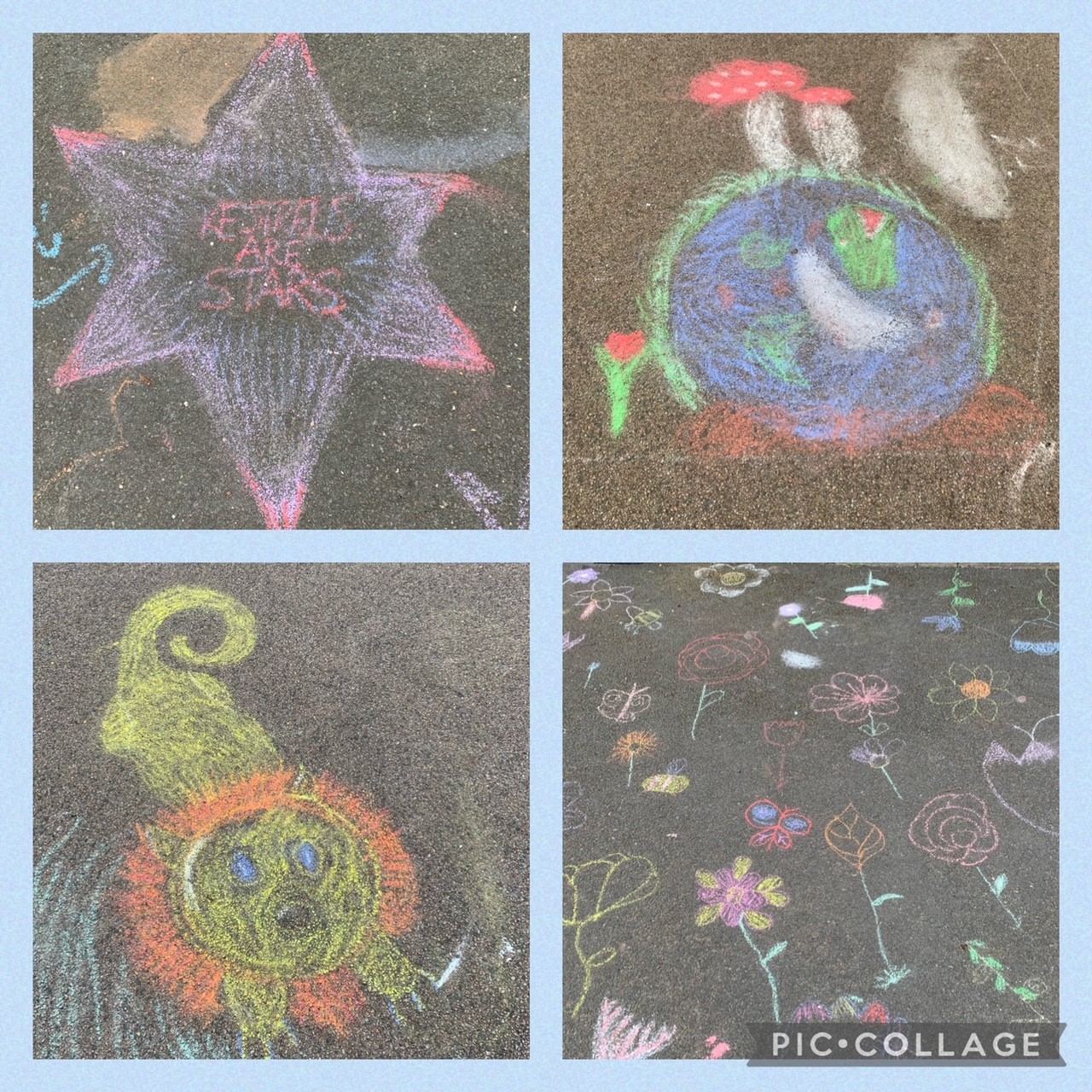 Click below to view all the latest News Blogs:
Dates for your diary
View the school calendar for the latest information
Advertising Hub
Please see latest from our advertising hub:
School Meals
View this weeks school meals menu: